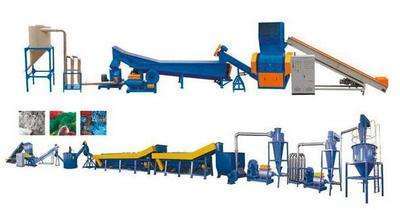 Product Description
1. Full automatic PP, LDPE crushing washing line is mainly used for large number of recycled PP/PE film, agriculture film, mulching film, package film, and large number of plastic bags, and cement bags, woven bags and other soft waste plastic.
2. This line including conveyor feeder, crusher, high speed friction washer, floating washer tank, dewatering machine, drying system, storage silo.
3. Because of the open type combination equipment, according to the actual situation of the user flexible set, multiple friction cleaning, cleaning, crushing two high temperature composite cleaning, and the submerged floating material and material automatic separation function such as rinsing, can also be simplified to open semi automatic cleaning equipment. In addition, the central control system can be designed according to the requirements of different users to realize the two control and program control.
4. The equipment is widely used in a certain scale, recycled plastics recycling processing enterprises in the pursuit of benefits such as: automation of large and medium-sized cement bags of recycled particles; PP, PE film recycling waste plastics, waste paper mill; large field plastic film crushing cleaning.
5. Capacity: 200-1000kg/hr.
Packaging & Shipping